Kia Forte: Specification
| | |
| --- | --- |
| Item | Specification |
| Primary Coil Resistance (Ω) | 0.75 ± 15% [20°C (68°F)] |
| Secondary Coil Resistance (kΩ) | 5.9 ± 15% [20°C (68°F)] |
Item




Specification




Type




SILZKR7B11




Gap




1.0 ~ 1.1




(0.0394 ~ 0.0433)



| | |
| --- | --- |
| Item | Specification |
| Capacitance (uF) | 0.47 [1KHz] |
| Insulation resistance (MΩ) | 1,000 [DC 500 V/1 Min] |
Alternator [Non-ISG type]
Item




Specification




Rated voltage




13.5V, 90A




Speed in use




1,000 ~ 18,000 rpm




Voltage regulator




IC Regulator built-in type




Regulator Setting Voltage




External mode




Refer to below graph




Internal mode




14.55 ± 0.3V




Temperature Gradient




External mode




0 ± 3 mV / °C 




Internal mode




-3.5 ± 2mV / °C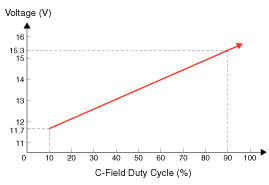 ※ Regulator Setting Voltage (External mode)
Item




Specification




Rated voltage




13.5V, 120A




Speed in use




1,000 ~ 18,000 rpm




Voltage regulator




IC Regulator built-in type




Regulator Setting Voltage




External mode




Refer to below graph




Internal mode




14.55 ± 0.3V




Temperature Gradient




External mode




0 ± 3 mV / °C




Internal mode




-3.5 ± 2mV / °C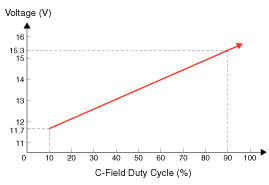 ※ Regulator Setting Voltage (External mode)
| | |
| --- | --- |
| Item | Specification |
| Model type | CMF60L-DIN |
| Capacity [20HR / 5HR] (AH) | 60 / 48 |
| Cold Cranking Amperage (A) | 550 (SAE) / 440 (EN) |
| Reserve Capacity (Min) | 92 |
| | |
| --- | --- |
| Item | Specification |
| Model type | AGM 70L-DIN |
| Capacity [20HR / 5HR] (AH) | 70 / 56 |
| Cold Cranking Amperage (A) | 760 (SAE) / 610 (EN) |
| Reserve capacity (Min) | 120 |
| | |
| --- | --- |
| • | |
| | |
| --- | --- |
| • | Cold Cranking Ampere (CCA): Cold Cranking Amps is a rating used in the battery industry to define a battery's ability to start an engine in cold temperatures. |
| | |
| --- | --- |
| - | The rating is the number of amps a new, fully charged battery can deliver at -18 °C(-0.4 °F) for 30 seconds, while maintaining a voltage of at least 7.2 volts for a 12 volt battery. |
| | |
| --- | --- |
| - | The higher the CCA rating, the greater the starting power of the battery. |
| | |
| --- | --- |
| • | RESERVE CAPACITY (RC) : Reserve Capacity is a battery industry rating, defining a battery's ability to power a vehicle with an inoperative alternator or fan belt. |
| | |
| --- | --- |
| - | The rating is the number of minutes a battery at 26.7 °C(80 °F) can be discharged at 25 amps and maintain a voltage of 10.5 volts for a 12 volt battery. |
| | |
| --- | --- |
| - | The higher the reserve rating, the longer your vehicle can operate should your alternator or fan belt fail. |
Item




Specification




Rated voltage




12 V, 1.2 kW




The number of pinion teeth




13




Performance




[No-load, 11 V]




Ampere




Max. 70 A




Speed




Min. 2,400 rpm



Item




Specification




Rated voltage




12 V, 1.4 kW




The number of pinion teeth




15




Performance




[No-load, 11.5 V]




Ampere




Max. 100 A




Speed




Min. 1,915 rpm



Item N.m kgf.m lb-ft Ignition coil installation bolt 9.8 ~ 11.8 1.0 ~ 1.2 7.2 ~ 8.7 Spark plug installation 14.7 ~ 24. ...
See also:
Cigarette lighter (if equipped)
For the cigarette lighter to work, the ignition switch must be in the ACC or ON position. To use the cigarette lighter, push it all the way into its socket. When the element is heated, the ligh ...
Inspection
Steering Wheel Play Inspection 1. Turn the steering wheel so that the front wheels can face straight ahead. 2. Measure the distance the ...
Inhibitor Switch Specifications
▷ Type: Combination of output signals from 4 terminals Power supply (V) 12 Output type Combination of output signals Signal Code Table ...