Kia Forte: Cigarette lighter (if equipped)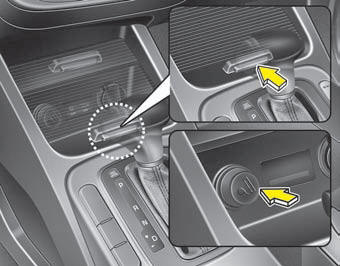 For the cigarette lighter to work, the ignition switch must be in the ACC or ON position.
To use the cigarette lighter, push it all the way into its socket. When the element is heated, the lighter will pop out to the "ready" position.
If it is necessary to replace the cigarette lighter, use only a genuine Kia replacement or its approved equivalent.
Do not hold the lighter in after it is already heated because it will overheat.
If the lighter does not pop out within 30 seconds, remove it to prevent overheating.
CAUTION - Cigarette lighter
Do not insert accessories into the cigarette lighter socket. Doing so can damage toe lighter socket
Ashtray (if equipped)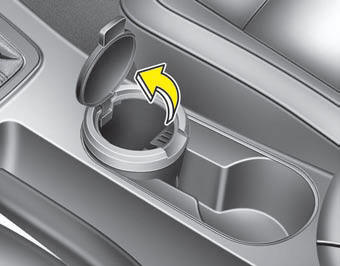 To use the ashtray, open the cover. To clean or empty the ashtray, pull it out.
WARNING - Ashtray use
Putting lit cigarettes or matches in an ashtray with other combustible materials may cause a fire.
Cup holder
WARNING - Hot liquids
Do not place uncovered cups of hot liquid in the cup holder while the vehicle is in motion. If the hot liquid spills, you may burn yourself. Such a burn to the driver could lead to loss of control of the vehicle.
To reduce the risk of personal injury in the event of a sudden stop or collision, do not place uncovered or unsecured bottles, glasses, cans, etc., in the cup holder while the vehicle is in motion.
WARNING
Keep cans or bottles out of direct sun light and do not put them in a vehicle that is heated up. It may explode.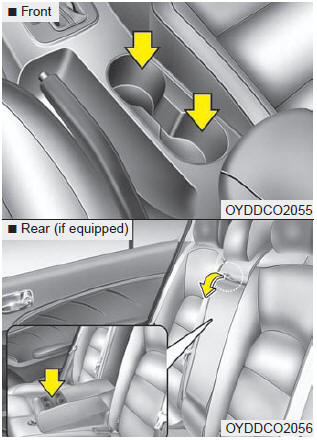 Cups or small beverage cans may be placed in the cup holders.
Sliding armrest (if equipped)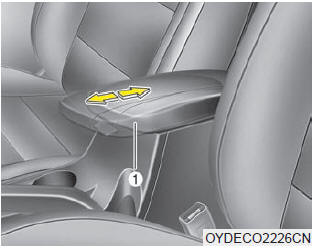 To move forward
Grab the front portion of the armrest (1) then pull it forward
To move rearward
Push the armrest rearward with your palm.