Kia Forte: Sunvisor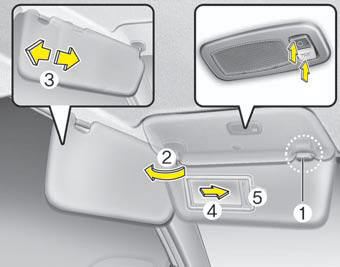 Use the sunvisor to shield direct light through the front or side windows.
To use the sunvisor, pull it downward. To use the sunvisor for the side window, pull it downward, unsnap it from the bracket (1) and swing it to the side (2).
Adjust the sunvisor extension forward or backward (3).
To use the vanity mirror, pull down the visor and slide the mirror cover (4).
The ticket holder (5) is provided for holding a tollgate ticket (if equipped).
CAUTION - Vanity mirror lamp
Close the vanity mirror cover securely and return the sunvisor to its original position after use. If the vanity mirror is not closed securely, the lamp will stay on and could result in battery discharge and possible sunvisor damage.
Seat warmer (if equipped)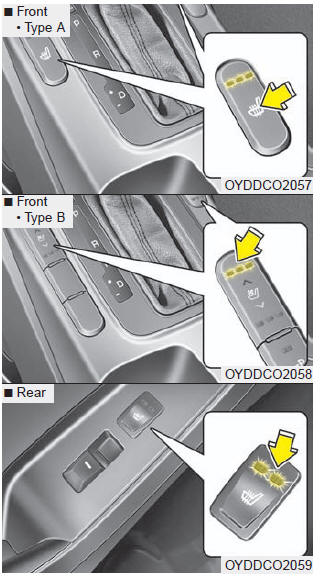 The seat warmer is provided to warm the front seats during cold weather.
With the ignition switch in the ON position, push either of the switches to warm the driver's seat or the front passenger's seat.
During mild weather or under conditions where the operation of the seat warmer is not needed, keep the switches in the OFF position.
Each time you push the button, the temperature setting of the seat is changed as follows :
Front seat

Rear seat

The seat warmer defaults to the OFF position whenever the ignition switch is turned on.
With the seat warmer switch in the ON position, the heating system in the seat turns off or on automatically depending on the seat temperature.
CAUTION
When cleaning the seats, do not use an organic solvent such as thinner, benzene, alcohol and gasoline. Doing so may damage the surface of the heater or seats.
To prevent overheating the seat warmer, do not place anything on the seats that insulates against heat, such as blankets, cushions or seat covers while the seat warmer is in operation.
Do not place heavy or sharp objects on seats equipped with seat warmers. Damage to the seat warming components could occur.
WARNING - Seat warmer burns
Passengers should use extreme caution when using seat warmers due to the possibility of excess heating or burns. The seat warmer may cause burns even at low temperatures, especially if used for long periods of time. The occupants must be able to feel if the seat is becoming too warm and to turn the seat warmer off. In particular, the driver must exercise extreme care for the following types of passengers: Infants, children, elderly or disabled persons, or hospital outpatients Persons with sensitive skin or those that burn easily Fatigued individuals Intoxicated individuals Individuals taking medication that can cause drowsiness or sleepiness (sleeping pills, cold tablets, etc.)