Kia Forte: Tire and wheels
Tire care
For proper maintenance, safety, and maximum fuel economy, you must always maintain recommended tire inflation pressures and stay within the load limits and weight distribution recommended for your vehicle.
Recommended cold tire inflation pressures
All tire pressures (including the spare) should be checked when the tires are cold. "Cold Tires" means the vehicle has not been driven for at least three hours or driven less than one mile (1.6 km).
Recommended pressures must be maintained for the best ride, top vehicle handling, and minimum tire wear.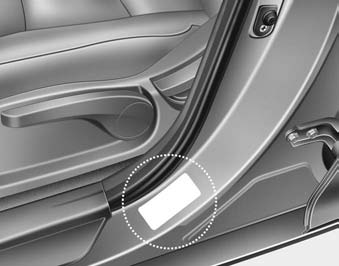 All specifications (sizes and pressures) can be found on a label attached to the driver's side center pillar.
WARNING - Tire underinflation
Inflate your tires consistent with the instructions provided in this manual. Severe underinflation (10 psi (70 kPa) or more) can lead to severe heat build-up, causing blowouts, tread separation and other tire failures that can result in the loss of vehicle control. This risk is much higher on hot days and when driving for long periods at high speeds.
Underinflation also results in excessive wear, poor handling and reduced fuel economy. Wheel deformation also is possible. Keep your tire pressures at the proper levels. If a tire frequently needs refilling, have it checked by an authorized Kia dealer.
Overinflation produces a harsh ride, excessive wear at the center of the tire tread, and a greater possibility of damage from road hazards.
Warm tires normally exceed recommended cold tire pressures by 4 to 6 psi (28 to 41 kPa). Do not release air from warm tires to adjust the pressure or the tires will be under inflated.
Be sure to reinstall the tire inflation valve caps. Without the valve cap, dirt or moisture could get into the valve core and cause air leakage. If a valve cap is missing, install a new one as soon as possible.
Always observe the following:
Check tire pressure when the tires are cold. (After vehicle has been parked for at least three hours or hasn't been driven more than one mile (1.6 km) since startup.)
Check the pressure of your spare tire each time you check the pressure of other tires.
Never overload your vehicle. Be careful not to overload a vehicle luggage rack if your vehicle is equipped with one.
Checking tire inflation pressure
Check your tires once a month or more.
Also, check the tire pressure of the spare tire.
How to check
Use a good quality gauge to check tire pressure. You can not tell if your tires are properly inflated simply by looking at them. Radial tires may look properly inflated even when they're under inflated.
Check the tire's inflation pressure when the tires are cold. - "Cold" means your vehicle has been sitting for at least three hours or driven no more than 1 mile (1.6 km).
Remove the valve cap from the tire valve stem. Press the tire gauge firmly onto the valve to get a pressure measurement. If the cold tire inflation pressure matches the recommended pressure on the tire and loading information label, no further adjustment is necessary. If the pressure is low, add air until you reach the recommended amount.
If you overfill the tire, release air by pushing on the metal stem in the center of the tire valve. Recheck the tire pressure with the tire gauge. Be sure to put the valve caps back on the valve stems. They help prevent leaks by keeping out dirt and moisture.
Inspect your tires frequently for proper inflation as well as wear and damage. Always use a tire pressure gauge.
Tires with too much or too little pressure wear unevenly causing poor handling, loss of vehicle control, and sudden tire failure leading to accidents, injuries, and even death. The recommended cold tire pressure for your vehicle can be found in this manual and on the tire label located on the driver's side center pillar.
Remember to check the pressure of your spare tire. Kia recommends that you check the spare every time you check the pressure of the other tires on your vehicle.
Tire rotation
To equalize tread wear, it is recommended that the tires be rotated every 7,500 miles (12,000 km) or sooner if irregular wear develops. During rotation, check the tires for correct balance.
When rotating tires, check for uneven wear and damage. Abnormal wear is usually caused by incorrect tire pressure, improper wheel alignment, outof- balance wheels, severe braking or severe cornering. Look for bumps or bulges in the tread or side of tire.
Replace the tire if you find either of these conditions. Replace the tire if fabric or cord is visible. After rotation, be sure to bring the front and rear tire pressures to specification and check lug nut tightness.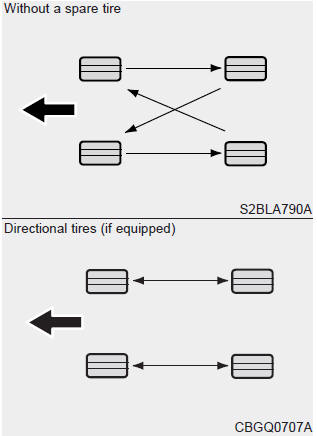 Disc brake pads should be inspected for wear whenever tires are rotated.
Rotate radial tires that have an asymmetric tread pattern only from front to rear and not from right to left. Do not use the compact spare tire for tire rotation.
WARNING - Mixing tire types
Do not mix bias ply and radial ply tires under any circumstances. This may cause unusual handling characteristics.
Wheel alignment and tire balance
The wheels on your vehicle were aligned and balanced carefully at the factory to give you the longest tire life and best overall performance.
In most cases, you will not need to have your wheels aligned again. However, if you notice unusual tire wear or your vehicle pulling one way or the other, the alignment may need to be reset.
If you notice your vehicle vibrating when driving on a smooth road, your wheels may need to be rebalanced.
CAUTION - Wheel weight
Improper wheel weights can damage your vehicle's aluminum wheels. Use only approved wheel weights.