Kia Forte: A/C Pressure Transducer Description
The A/C Pressure Transducer (APT) converts the pressure value of high pressure line into voltage value after measuring it. By converted voltage value, engine ECU controls the cooling fan by operating it high speed or low speed. Engine ECU stops the operation of the compressor when the temperature of refrigerant line is very high or very low irregularly to optimize air conditioning system.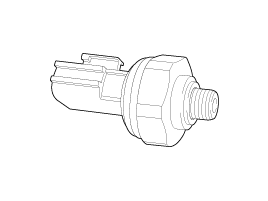 1. Remove the condenser, and then remove the bottom cap (B) with a L wrench (A) from the condenser. Tightening torque : 9.8~14.7N.m ( ...
1. Measure the pressure of high pressure line by measuring voltage output between NO.1 and NO.2 terminals. 2. Inspect the voltage v ...
See also:
Shift Lever Components
1. Shift lever knob 2. Shift lever assembly 3. Shift cable assembly 4. Select cable assembly 5. Retainer ...
Heated Oxygen Sensor (HO2S) Description
Heated Oxygen Sensor (HO2S) consists of zirconium and alumina and is installed both upstream and downstream of the Catalytic Converter. It varies in accordance with the air/fuel ratio. Th ...
Specifications
Items Specifications Rated voltage DC 5V Load Max. 1mA (When head lamp lighting) Illuminations (LUX) 50 1.42 ± 0.31V ...