Kia Forte: A/C Pressure Transducer Description
The A/C Pressure Transducer (APT) converts the pressure value of high pressure line into voltage value after measuring it. By converted voltage value, engine ECU controls the cooling fan by operating it high speed or low speed. Engine ECU stops the operation of the compressor when the temperature of refrigerant line is very high or very low irregularly to optimize air conditioning system.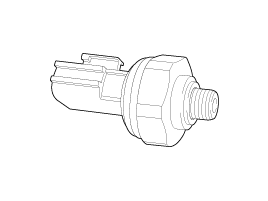 1. Remove the condenser, and then remove the bottom cap (B) with a L wrench (A) from the condenser. Tightening torque : 9.8~14.7N.m ( ...
1. Measure the pressure of high pressure line by measuring voltage output between NO.1 and NO.2 terminals. 2. Inspect the voltage v ...
See also:
Roof rack system
Roof rack For safety reasons and to avoid damage to the roof, the vehicle approved roof rack system is recommended. For further information, contact your workshop. Open all doors. Mounting points ...
Driver alert
The driver alert system monitores the driving time and the vigilance of the driver. Monitoring the vigilance of the driver is based on the trajectory variations of the vehicle compared to the lan ...
Shift Lever Installation
1. Install in the reverse order of removal. Install the cable after placi ...