Kia Forte: Second generation YD (2014-2018)
Second generation YD (2014-2018)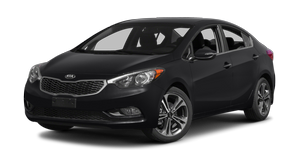 Pulling the silk off the all-new 2014 Kia Forte sedan at the 2012 Los Angeles International Auto Show, Kia Motors America (KMA) revealed a stunning European design-inspired sedan that makes it clear the Korean auto manufacturer has another winner in its line-up of sought-after cars and CUVs.
Kia introduced the all-new 2010 Kia Forte (pronounced for-tay) compact sedan at the 2009 Chicago Auto Show. Forte blends Kia's exciting new design direction under the tutelage of Peter Schreyer, Kia M ...
See also:
Rheostat Inspection
1. Disconnect the negative (-) battery terminal. 2. Remove the crash pad side switch assembly (A). 3. ...
Control Cable Inspection
1. Check the select cable for proper operation and for damage. 2. Check the shift cable for proper operation and for damage. ...
Compressor Removal
1. If the compressor is marginally operable, run the engine at idle speed, and let the air conditioning work for a few minutes, then shut the engine off. ...