Kia Forte: AVN Head Unit Components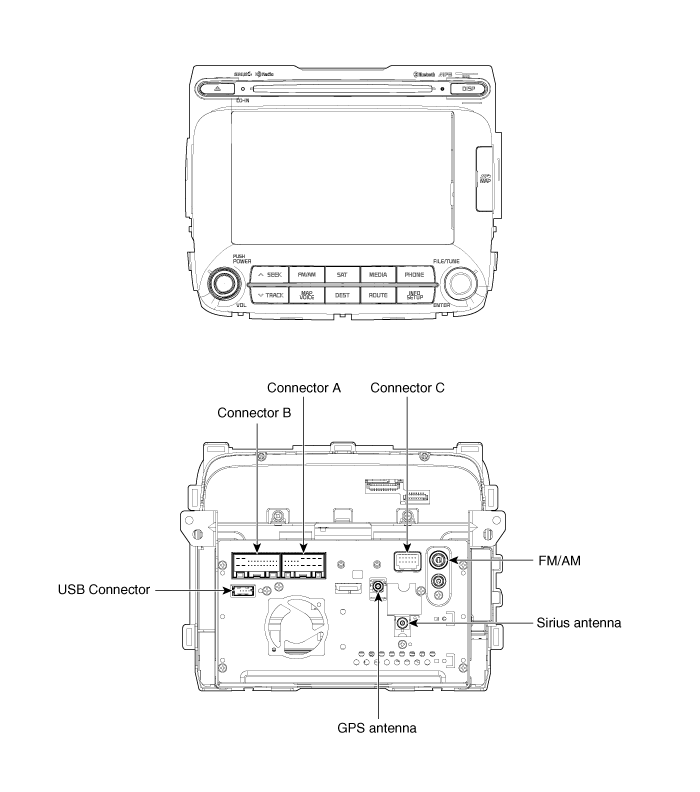 AVN Head Unit Connector (AVN)

Connector Pin Information
No.




Connector A




Connector B




1




Rear left speaker (+)




MM CAN high




2




Front left speaker (+)




Ground




3




Front right speaker (+)




Parking (M/T)




4




Rear right speaker (+)




Steering remocon




5




Back view ground




-




6




Back view power




Igntion




7




ALT L




-




8




Illumination (+)




AUX R input




9




Reverse




AUX ground




10




Rear left speaker (-)




Mic (+)




11




Front left speaker (-)




ACC




12




Front right speaker (-)




Battery (+)




13




Rear right speaker (-)




MM CAN low




14




Back view video ground




Auto light




15




Back view video




P position (A/T)




16




Door unlock




Vehicle speed




17




Illumination (-)




Remote control ground




18




Remote antenna




-




19




 




-




20




AUX detect




21




AUX L input




22




Mic (-)




23




Ground




24




Ground



AVN Head Unit Connector (AVN + TMU)

Connector Pin Information
No.




Connector A




Connector B




Connector C




1




Rear left speaker (+)




MM CAN high




-




2




Front left speaker (+)




-




-




3




Front right speaker (+)




Parking (M/T)




-




4




Rear right speaker (+)




Steering remocon




-




5




Back view ground




-




-




6




Back view power




Igntion




-




7




ALT L




-




-




8




Illumination (+)




AUX R input




-




9




Reverse




AUX ground




-




10




Rear left speaker (-)




Mic (+)




-




11




Front left speaker (-)




ACC




Door open




12




Front right speaker (-)




Battery (+)




-




13




Rear right speaker (-)




MM CAN low




 




14




Back view video ground




Auto light




15




Back view video




P position (A/T)




16




Door unlock




Vehicle speed




17




Illumination (-)




Remote control ground




18




Remote antenna




-




19




 




-




20




AUX detect




21




AUX L input




22




Mic (-)




23




Ground




24




Ground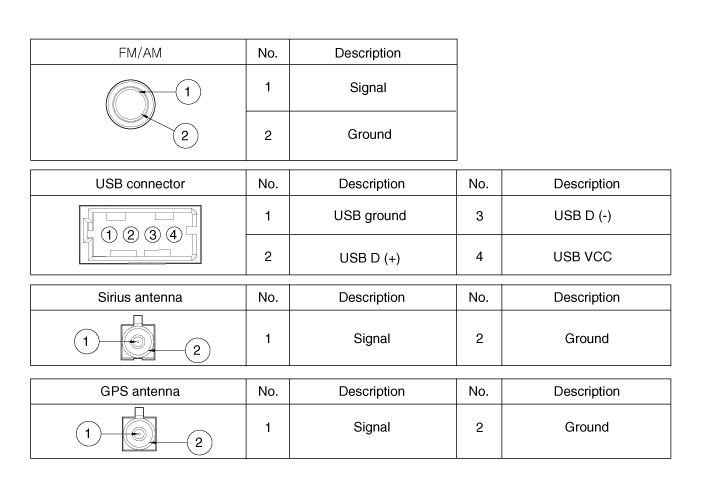 Limitations Of The Navigation system GPS Signal Reception State As the GPS satellite frequency is received/transmitted in straight lines, reception may not work if hiding devices are pla ...
AVN Head Unit • Take care not to scratch the center fascia panel and related parts. ...
See also:
Canister Close Valve (CCV) Inspection
1. Turn the ignition switch OFF. 2. Disconnect the CCV connector. 3. Measure resistance between the CCV termina ...
Fuel Pump Removal
[LEV2] 1. Release the residual pressure in fuel line (Refer to the Fuel Delivery System - Repair Procedures - "Release Residual Pressure in Fuel Line ...
Cooling Fan Components
1. Cooling fan 2. Fan motor 3. Cooling fan shroud 4. Resister ...