Kia Forte: AVN Head Unit Components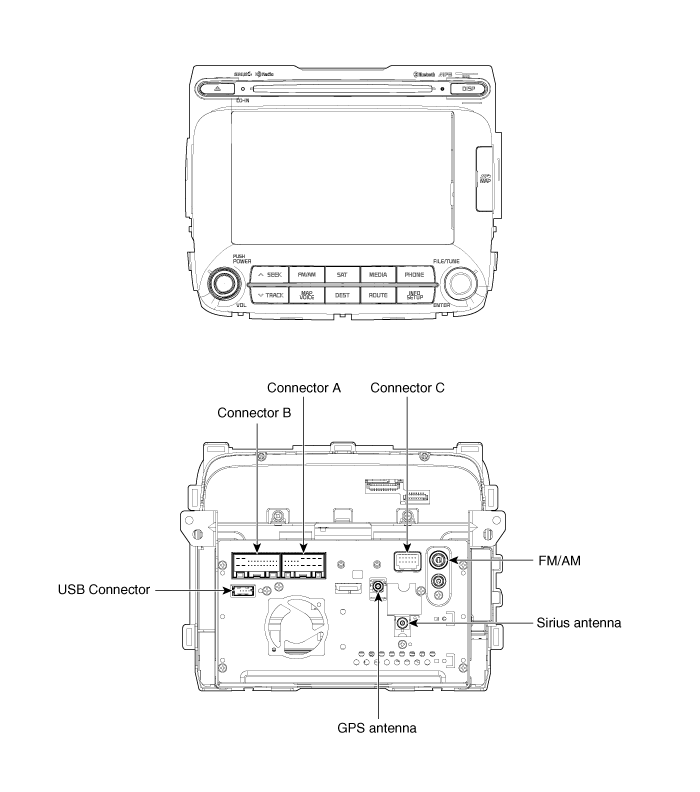 AVN Head Unit Connector (AVN)

Connector Pin Information
No.




Connector A




Connector B




1




Rear left speaker (+)




MM CAN high




2




Front left speaker (+)




Ground




3




Front right speaker (+)




Parking (M/T)




4




Rear right speaker (+)




Steering remocon




5




Back view ground




-




6




Back view power




Igntion




7




ALT L




-




8




Illumination (+)




AUX R input




9




Reverse




AUX ground




10




Rear left speaker (-)




Mic (+)




11




Front left speaker (-)




ACC




12




Front right speaker (-)




Battery (+)




13




Rear right speaker (-)




MM CAN low




14




Back view video ground




Auto light




15




Back view video




P position (A/T)




16




Door unlock




Vehicle speed




17




Illumination (-)




Remote control ground




18




Remote antenna




-




19




 




-




20




AUX detect




21




AUX L input




22




Mic (-)




23




Ground




24




Ground



AVN Head Unit Connector (AVN + TMU)

Connector Pin Information
No.




Connector A




Connector B




Connector C




1




Rear left speaker (+)




MM CAN high




-




2




Front left speaker (+)




-




-




3




Front right speaker (+)




Parking (M/T)




-




4




Rear right speaker (+)




Steering remocon




-




5




Back view ground




-




-




6




Back view power




Igntion




-




7




ALT L




-




-




8




Illumination (+)




AUX R input




-




9




Reverse




AUX ground




-




10




Rear left speaker (-)




Mic (+)




-




11




Front left speaker (-)




ACC




Door open




12




Front right speaker (-)




Battery (+)




-




13




Rear right speaker (-)




MM CAN low




 




14




Back view video ground




Auto light




15




Back view video




P position (A/T)




16




Door unlock




Vehicle speed




17




Illumination (-)




Remote control ground




18




Remote antenna




-




19




 




-




20




AUX detect




21




AUX L input




22




Mic (-)




23




Ground




24




Ground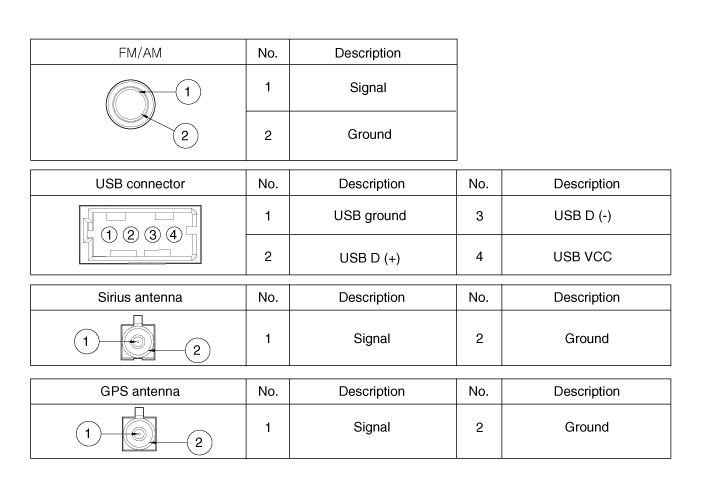 Limitations Of The Navigation system GPS Signal Reception State As the GPS satellite frequency is received/transmitted in straight lines, reception may not work if hiding devices are pla ...
AVN Head Unit • Take care not to scratch the center fascia panel and related parts. ...
See also:
DC/DC Converter Description
Due to the considerably more frequent occurrence of starting operations, the electrical load that occurs often leads to voltage dips in the vehicle network. In order to stabilize the power s ...
IMS Power Seat Control Installation
- Make sure that the IMS control switch connectors and related connectors are plugged in ...
Inside rearview mirror
Adjust the rearview mirror so that the center view through the rear window is seen. Make this adjustment before you start driving. Do not place objects in the rear seat which would interfere with yo ...