Kia Forte: Component Location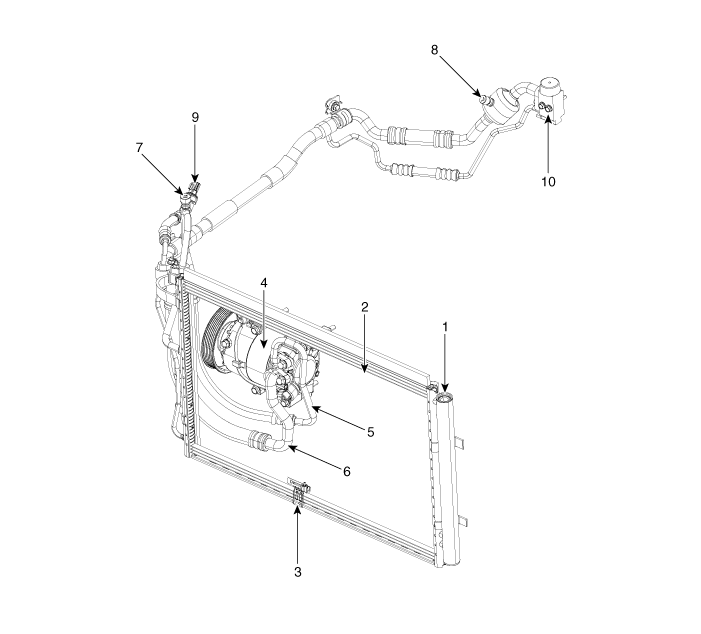 1. Receiver Drier




2. Condenser




3. Ambient Temperature Sensor




4. Compressor




5. Discharge Hose




6. Suction & Liquid Tube Assembly




7. Service Port (High Pressure)




8. Service Port (Low Pressure)




9. A/C Pressure Transducer (APT)




10. Expansion Valve



1. Auto Defogging Sensor




2. Photo Sensor




3. Heater & A/C Controller (Manaul)




4. Heater & A/C Controller (DATC)




5. Incar Sensor




6. Heater & Blower Unit




7. Evaporator Temperature Sensor




8. Cluster Ionizer



Use only service equipment that is U.L-listed and is certified to meet the requirements of SAE J2210 to remove HFC-134a(R-134a) from the air conditioning system. ...
1. The R-134a system requires synthetic compressor oil (PAG) whereas the R-12 system requires mineral compressor oil. The two oils must never be mixed. ...
See also:
Engine coolant
The high-pressure cooling system has a reservoir filled with year-round antifreeze coolant. The reservoir is filled at the factory. Check the antifreeze protection and coolant level at least once a ...
Components
Components (1) (4Door) 1. Front bumper cover 2. Front bumper upper weatherstrip 3. Front bumper side bracket [LH] 4. Front bumper side bracket [RH] Co ...
Telemetics Unit (TMU) Component
Connector Pin Specification No. Pin Name Type From To Description (Wiring Spec.) 1 GND DC Ground TMU Batt ...