Kia Forte: Engine compartment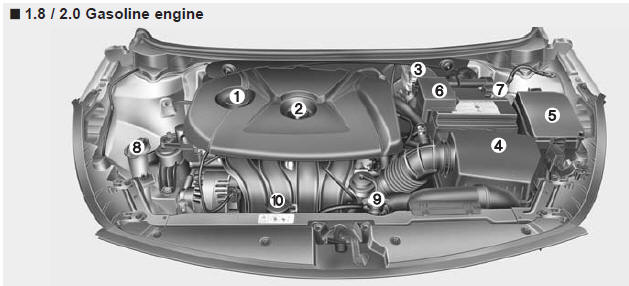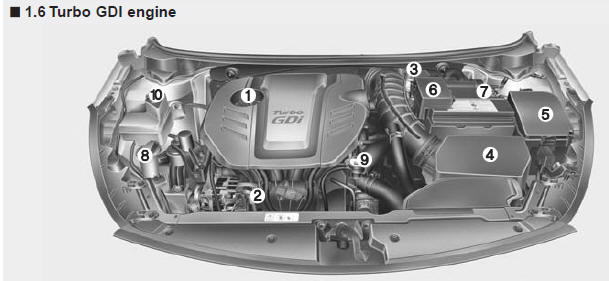 1. Engine oil filler cap
2. Engine oil dipstick
3. Brake/clutch fluid reservoir
4. Air cleaner
5. Fuse box
6. Positive battery terminal
7. Negative battery terminal
8. Windshield washer fluid reservoir
9. Radiator cap
10. Engine coolant reservoir
1. Instrument cluster 2. Lighting control lever 3. Audio remote control buttons 4. Horn 5. Driver's front air bag 6. Cruise control button 7. Wiper and washer control lever 8. Ignition ...
See also:
DC/DC Converter Circuit Diagram
In the ISG mode, if the power of an audio system turnsOFF by drawdown while "Auto Starting" or "Idle Starting"functi ...
Specifications
Item Specifications Transaxle type A6GF1 Engine model Gasoline 1.8 MPI Torque converter type 3-element, 1-stage, 2-phase type ...
Operation
Control Specification 1. MANUAL Operation (1) MANUAL Seat Operation SEAT is to be operated by MANUAL switch Input of SEAT. SLI ...