Kia Forte: Heater Unit Components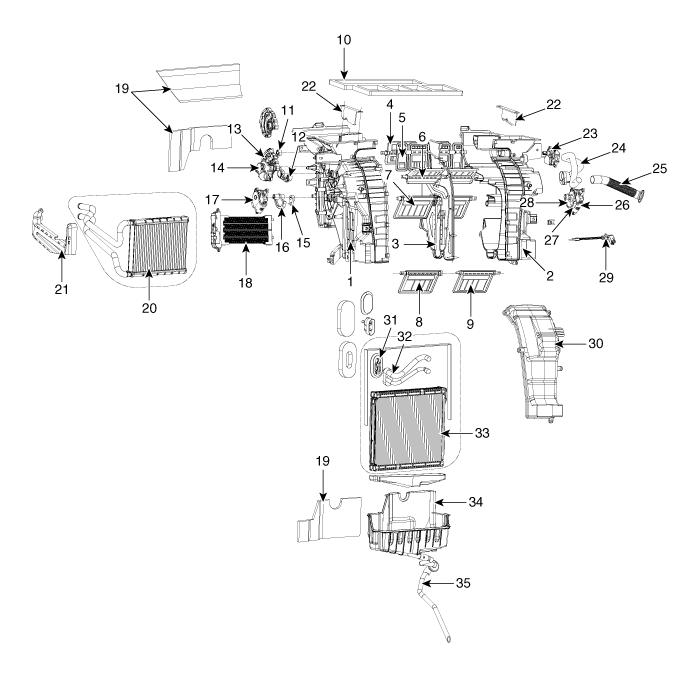 1. Heater Case (Left)




2. Heater Case (Right)




3. Console Separator




4. Defog Door




5. Vent Door




6. Floor Door




7. Mix Door (Manual)




8. Mix Door (DATC-Left)




9. Mix Door (DATC-Right)




10. Seal




11. Vent Arm




12. Floor Arm




13. Mode Cam




14. Mode Actuator




15. Temperature Door Arm




16. Temperature Door Lever




17. Temperatuer Control Actuator (DATC)




18. PTC Heater (GSL)




19. Anti Noise Pad (B)




20. Heater Core




21. Heater Pipe Cover




22. Separator




23. Defog Actuator




24. Intake Hose




25. Cooling Hose




26. Temperature Control Actuator




27. Door Arm




28. Temperature Door Lever




29. Evaporator Temperature Sensor




30. Console Cover




31. Evaporator Pipe Grommet




32. Evaporator Pipe




33. Evaporator Core




34. Heater & Evaporator Lower Case




35. Drain Hose



1. Disconnect the negative (-) battery terminal. 2. Recover the refrigerant with a recovery/ recycling/ charging station. ...
See also:
Important Safety Notice
Proper service methods and repair procedures are essential for safe, reliable operation of all motor vehicles as well as personal safety of the operator. The service procedures and descriptio ...
Replacement
1. Remove the cap (A) and remove the nuts, then remove the wiper arm (B). Tightening torque : 22.6~26.5 N.m(2.3~2.7 kgf.m, 16.6~19.5 ...
Center Fascia Panel Component Location
1. Center fascia panel ...