Kia Forte: Heater Unit Components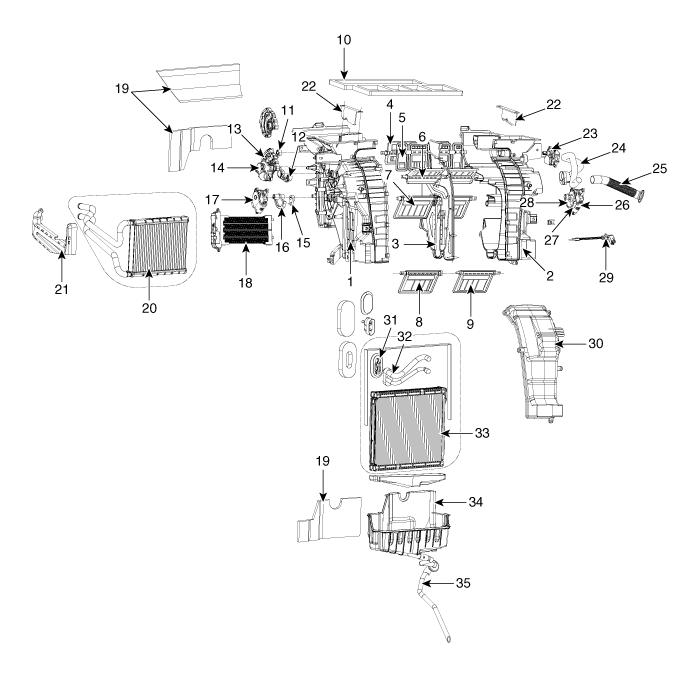 1. Heater Case (Left)




2. Heater Case (Right)




3. Console Separator




4. Defog Door




5. Vent Door




6. Floor Door




7. Mix Door (Manual)




8. Mix Door (DATC-Left)




9. Mix Door (DATC-Right)




10. Seal




11. Vent Arm




12. Floor Arm




13. Mode Cam




14. Mode Actuator




15. Temperature Door Arm




16. Temperature Door Lever




17. Temperatuer Control Actuator (DATC)




18. PTC Heater (GSL)




19. Anti Noise Pad (B)




20. Heater Core




21. Heater Pipe Cover




22. Separator




23. Defog Actuator




24. Intake Hose




25. Cooling Hose




26. Temperature Control Actuator




27. Door Arm




28. Temperature Door Lever




29. Evaporator Temperature Sensor




30. Console Cover




31. Evaporator Pipe Grommet




32. Evaporator Pipe




33. Evaporator Core




34. Heater & Evaporator Lower Case




35. Drain Hose



1. Disconnect the negative (-) battery terminal. 2. Recover the refrigerant with a recovery/ recycling/ charging station. ...
See also:
Precautions
General Precautions Please read the following precautions carefully before performing the airbag system service. Observe the instructions described in this manual, or the airba ...
Specifications
Fuel Delivery System Items Specification Fuel Tank Capacity 50 lit. (13.2 U.S.gal., 52.8 U.S.qt., 44.0 Imp.qt.) Fuel Filter Ty ...
Intake Manifold Removal and Installation
1. Remove the engine cover. 2. Disconnect the battery negative terminal. 3. Disconnect the wiring connectors a ...