Kia Forte: In-car Sensor (DATC only) Description
An in-car air temperature sensor is located in the crash pad lower panel.
The sensor contains a thermistor which measures the temperature of the inside. The signal decided by the resistance value which changes in accordance with perceived inside temperature, is delivered to the heater control unit and according to this signal the control unit regulates the in-car temperature to the intended value.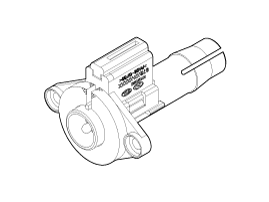 1. Disconnect the negative (-) battery terminal. 2. Disconnect the evaporator temperature sensor connector (A). 3. ...
1. Turn the ignition switch ON. 2. Blow air with changing temperature into the in-car sensor air inlet. Measure the sensor resistance betwe ...
See also:
Installation
1. Install the boot (A). 2. Install the clip to the clutch release fork. 3. Apply to grease in location ...
Drive Belt Tensioner Inspection
Check the belt tensioner for excessive foreign substances, crack, damage or sticking of pivot shaft. Replace if necessary. ...
TJ Joint Inspection
1. Check the spider assembly for roller rotation, wear or corrosion. 2. Check the groove inside the joint case for wear or corrosion ...