Kia Forte: In-car Sensor (DATC only) Description
An in-car air temperature sensor is located in the crash pad lower panel.
The sensor contains a thermistor which measures the temperature of the inside. The signal decided by the resistance value which changes in accordance with perceived inside temperature, is delivered to the heater control unit and according to this signal the control unit regulates the in-car temperature to the intended value.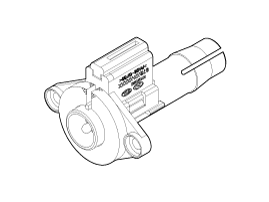 1. Disconnect the negative (-) battery terminal. 2. Disconnect the evaporator temperature sensor connector (A). 3. ...
1. Turn the ignition switch ON. 2. Blow air with changing temperature into the in-car sensor air inlet. Measure the sensor resistance betwe ...
See also:
Removal
1. Disconnect the battery negative cable and wait for at least thirty seconds before beginning work. 2. Remove the glove box housing. ...
Fluid Service Adjustment Procedure
Oil level Check A check of Automatic Transaxle Fluid (ATF) level is not normally required during scheduled ...
Cooling Fan Removal and Installation
Cooling fan assembly 1. Disconnect the battery "-" terminal. 2. Remove the air duct and air cleaner assembly. (Refer to ...