Kia Forte: In-car Sensor (DATC only) Description
An in-car air temperature sensor is located in the crash pad lower panel.
The sensor contains a thermistor which measures the temperature of the inside. The signal decided by the resistance value which changes in accordance with perceived inside temperature, is delivered to the heater control unit and according to this signal the control unit regulates the in-car temperature to the intended value.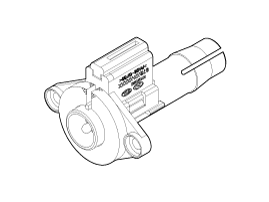 1. Disconnect the negative (-) battery terminal. 2. Disconnect the evaporator temperature sensor connector (A). 3. ...
1. Turn the ignition switch ON. 2. Blow air with changing temperature into the in-car sensor air inlet. Measure the sensor resistance betwe ...
See also:
Input Speed Sensor Removal
1. Disconnect the negative (-) battery cable. 2. Remove the air cleaner assembly and air duct. (Refer to Engine Mechanical System - &qu ...
Transmitter Code Registration (Using GDS)
1. Connect the DLC cable of GDS to the data link connector (16 pins) in driver side crash pad lower panel, turn the power on GDS. 2. ...
Crankshaft Components
1. Crankshaft upper bearing 2. Crankshaft thrust bearing 3. Crankshaft 4. Crankshaft lower bearing 5. Crankshaft position sensor (CKPS) wheel 6. Lower crankcase 7. Gas ...