Kia Forte: Panoramic sunroof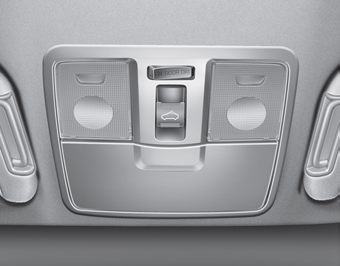 If your vehicle is equipped with a sunroof, you can slide or tilt your sunroof with the sunroof control lever located on the overhead console.
The sunroof can only be opened, closed, or tilted when the ignition switch is in the ON position.
In cold and wet climates, the sunroof may not work properly due to freezing conditions.
After the vehicle is washed or in a rainstorm, be sure to wipe off any water that is on the sunroof before operating it.
The sunroof cannot slide when it is in the tilt position nor can it be tilted while in an open or slide position.
CAUTION - Sunroof control lever
Do not continue to press the sunroof control lever after the sunroof is fully opened, closed, or tilted. Damage to the motor or system components could occur.
WARNING - Sunroof operation
When closing the sunroof, make sure there are no body parts in the movement range of the sliding roof. Parts of the body could become trapped or crushed.
The fuel filler lid must be opened from inside the vehicle by pulling up the fuel filler lid opener. If the fuel filler lid does not open because ice has formed around it, tap lightly or push o ...
If the driver removes the ignition key (smart key: turns off the engine) and opens the driver-side door when the sunroof is not fully closed, the warning chime will sound for a few seconds and a ...