Kia Forte: Alternator Description
The charging system included a battery, an alternator with a built-in regulator, and the charging indicator light and wire.
The Alternator has eight built-in diodes, each rectifying AC current to DC current.
Therefore, DC current appears at alternator "B" terminal.
In addition, the charging voltage of this alternator is regulated by the battery voltage detection system.
The alternator is regulated by the battery voltage detection system. The main components of the alternator are the rotor, stator, rectifier, capacitor brushes, bearings and OAD (Overrunning Alternator Decoupler) pulley. The brush holder contains a built-in electronic voltage regulator.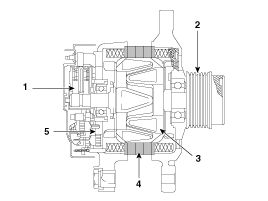 1. Brush
2. OAD (Overrunning Alternator Decoupler) pulley
3. Rotor
4. Ststor
5. Rectifier
Alternator Management System
Alternator management system controls the charging voltage set point in order to improve fuel economy, manage alternator load under various operating conditions, keep the battery charged, and protect the battery from over-charging. ECM controls generating voltage by duty cycle (charging control, discharging control, normal control) based on the battery conditions and vehicle operating conditions.
The system conducts discharging control when accelerating a vehicle. Vehicle reduces an alternator load and consumes an electric power form a battery.
The system conducts charging control when decelerating a vehicle. Vehicle increases an alternator load and charges a battery.
1. Remove the crash pad side switch assembly (A) from the switch panel on the crach pad of the driver's side. 2. Remove the ISG ...
Item Specification Rated voltage 13.5V, 120A Speed in use 1,000 ~ 18,000 rpm Voltage regulator IC Regulator built-in type ...
See also:
Audio Unit Installation
1. Connect the audio unit connectors and cables. 2. Install the audio unit. 3. Install the center fascia panel ...
Sealant
Items Specified sealant Control shaft assembly MS721-40 or MS721-38 ...
SRS Control Module (SRSCM)
The primary purpose of the SRSCM (Supplemental Restraints System Control Module) is to discriminate between an event that warrants restraint system deployment and an event that does not. The ...