Kia Forte: Ambient Temperature Sensor Description
The ambient temperature sensor is located at the front of the condenser and detects ambient air temperature. It is a negative type thermistor; resistance will increase with lower temperature, and decrease with higher temperatures.
The sensor output will be used for discharge temperature control, temperature regulation door control, blower motor level control, mix mode control and in-car humidity control.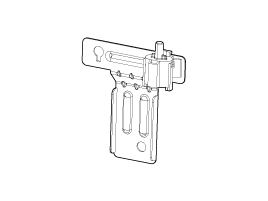 If the ambient temperature is below 0°C (32°F), the A/C compressor will stop.
The compressor will operate manually.
1. Disconnect the negative (-) battery terminal. 2. Disconnect the sensor cover (A) and then remove the auto defogging sensor (B). ...
1. Turn the ignition switch OFF. 2. Disconnect ambient temperature sensor. 3. Check the resistance of the ambie ...
See also:
Alternator Components
1. OAD (Overrunning Alternator Decoupler) pulley 2. Front housing 3. Front bearing 4. Stator 5. Rotor 6. Rear bearing 7. Rear housing 8. Rectifier assembly 9. Re ...
Alternator Inspection
[Rotor] 1. Check that there is continuity between the slip rings (C). 2. Check that there is no continuity between the slip ...
Condenser Inspection
1. Check the condenser fins for clogging and damage. If clogged, clean them with water, and blow them with compressed air. If bent, gently bend them using a screwdrive ...