Kia Forte: Ambient Temperature Sensor Description
The ambient temperature sensor is located at the front of the condenser and detects ambient air temperature. It is a negative type thermistor; resistance will increase with lower temperature, and decrease with higher temperatures.
The sensor output will be used for discharge temperature control, temperature regulation door control, blower motor level control, mix mode control and in-car humidity control.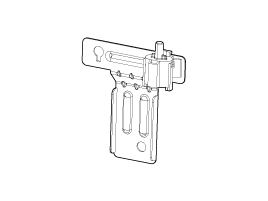 If the ambient temperature is below 0°C (32°F), the A/C compressor will stop.
The compressor will operate manually.
1. Disconnect the negative (-) battery terminal. 2. Disconnect the sensor cover (A) and then remove the auto defogging sensor (B). ...
1. Turn the ignition switch OFF. 2. Disconnect ambient temperature sensor. 3. Check the resistance of the ambie ...
See also:
Front Hub / Knuckle Components
1. Drive shaft coking nut 2. Brake disc 3. Wheel hub assembly 4. Wheel bearing 5. Snap ring 6. Dust cover 7. Knuckle 8. Drive shaft ...
CVVT & Camshaft Operation Principle
The CVVT has the mechanism rotating the rotor vane with hydraulic force generated by the engine oil supplied to the advance or retard chamber in accordance with the CVVT oil control valve con ...
CVVT Oil Control Valve (OCV) Removal
1. Turn the ignition switch OFF and disconnect the battery negative (-) cable. 2. Disconnect the CVVT oil control valve connector (A). ...