Kia Forte: Audio Unit Components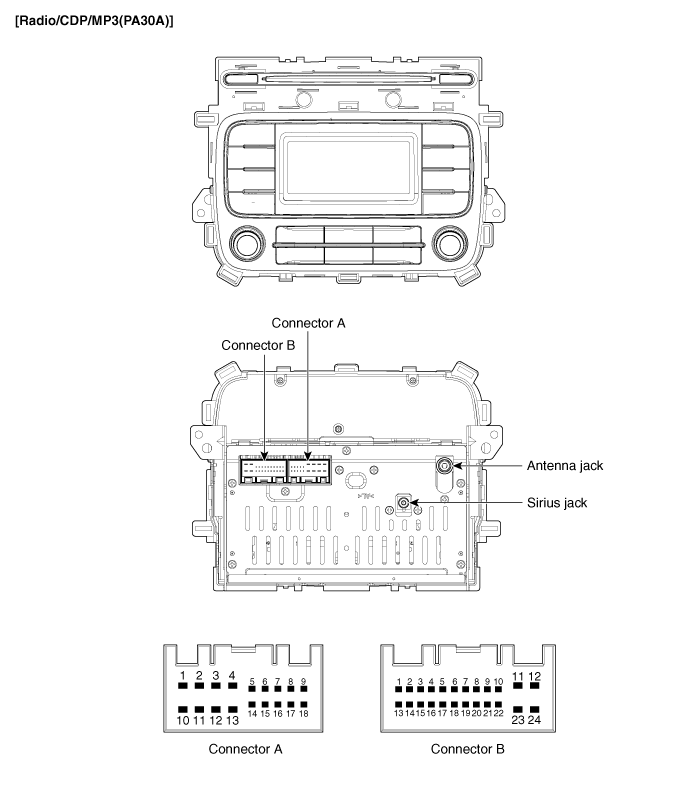 Connector Pin Information
No.




Connector A




Connector B




1




Rear left speaker (+)




-




2




Front left speaker (+)




-




3




Front right speaker (+)




-




4




Rear right speaker (+)




Steering remocon




5




-




-




6




-




USB data line D (+)




7




-




USB/ iPod VDD




8




Illumination (+)




AUX R input




9




Detent




AUX ground




10




Rear left speaker (-)




Mic (+) (Bluetooth)




11




Front left speaker (-)




ACC




12




Front right speaker (-)




Battery (+)




13




Rear right speaker (-)




-




14




-




-




15




-




-




16




-




Vehicle speed




17




Illumination (-)




Remote control ground




18




Remote antenna




USB data line D (-)




19




 




USB/ iPod ground




20




AUX detect




21




AUX L input




22




Mic (-) (Bluetooth)




23




-




24




Power ground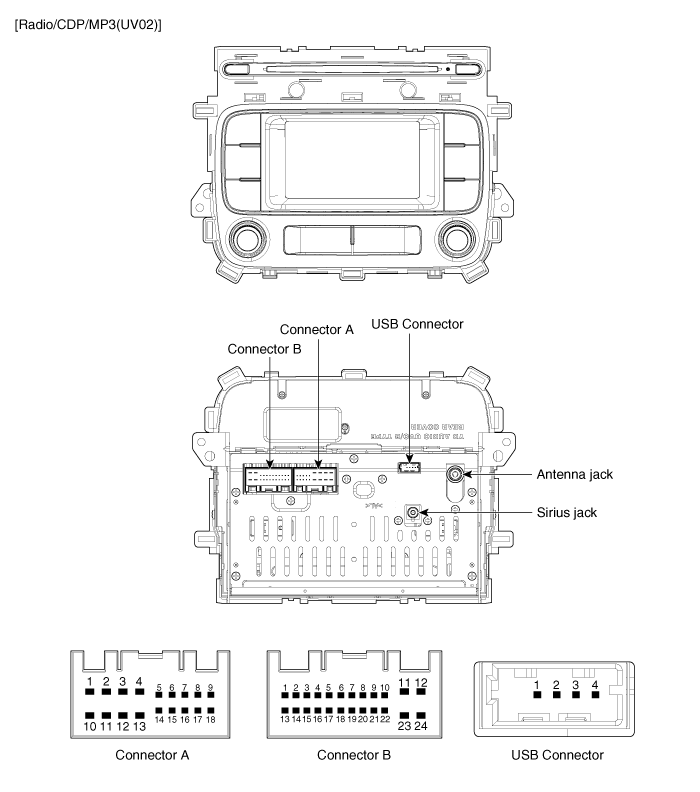 Connector Pin Information
No.




Connector A




Connector B




USB Connector




1




Rear left speaker (+)




CAN high




USB/ iPod 5V




2




Front left speaker (+)




-




USB data (-)/ iPod Tx




3




Front right speaker (+)




-




USB data (+)/ iPod Rx




4




Rear right speaker (+)




Steering remote




USB/ iPod ground




5




-




-




6




-




Camera video input




7




-




Camera battery (+)




8




Illumination (+)




AUX R Input




9




-




AUX ref. ground




10




Rear left speaker (-)




MIC(+) (Bluetooth)




11




Front left speaker (-)




ACC




12




Front right speaker (-)




B(+)




13




Rear right speaker (-)




CAN low




14




-




-




15




-




Auto light




16




Door unlock




Vehicle speed




17




Illumination (-)




Remote GND




18




Remote antenna




Camera video ground




19




 




R position




20




AUX detect




21




AUX L Input




22




MIC(-) (Bluetooth)




23




Camera power ground




24




Power GND



1. Audio unit 2. Tweeter speaker 3. Antenna cable connector 4. Glass antenna amplifier (Radio) 5. Front door speaker 6. Rear door speaker 7. Antenna feeder cable 8. ...
• When prying with a flat-tip screwdriver, wrap it with protective tape, and apply prote ...
See also:
Fuel Sender Removal
1. Remove the fuel pump. (Refer to Fuel Delivery System - "Fuel Pump") 2. Disconnect the electric pump wiring connector (A) and t ...
ECM Terminal And Input/Output signal (M/T)
ECM Terminal Function Connector [CNG-MA] Pin No. Description Connected to 1 Ignition Coil (Cylinder #1) control output Ignition Co ...
Installation
1. Fix the rear view camera with the rear view camera holder. 2. Connect the rear view camera connector. 3. Ins ...