Kia Forte: BJ Boot Components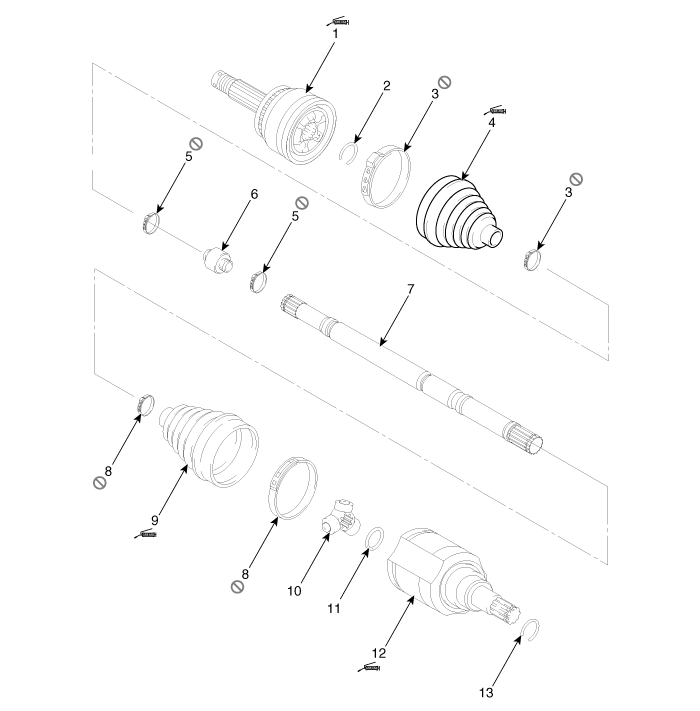 1. BJ assembly




2. Circlip




3. BJ boot band




4. BJ boot




5. Dynamic damper band




6. Dynamic damper




7. Shaft




8. TJ boot band




9. TJ boot




10. Spider assembly




11. Snap ring




12. TJ case




13. Circlip



1. Apply soap powder on the shaft to prevent being damaged between the shaft spline and the dynamic damper. 2. Install the dynamic damper. ...
1. Remove the front driveshaft. (Refer to Driveshaft Assembly - "Front Driveshaft") 2. Remove the TJ joint assembly. (Refer to ...
See also:
Inspection
1. Check for damage to boot. 2. Check for deformation to clutch release fork. 3. Check for deformation to clutc ...
Emergency starting
Connect cables in numerical order and disconnect in reverse order. Jump starting Jump starting can be dangerous if done incorrectly. Therefore, to avoid harm to yourself or damage to your vehic ...
Torque Converter Control Solenoid Valve (T/CON_VFS) Description
Torque converter control solenoid valve (T/CON_VFS) is attached to the valve body. This variable force solenoid valve directly controls the hydraulic pressure inside the torque converter. ...