Kia Forte: Cargo area cover (5 Door)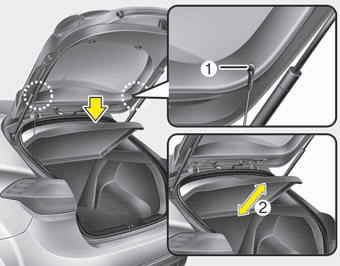 Use the cover to hide items stored in the cargo area.
The cargo area cover will be lifted when the tailgate is opened.
Disconnect the strap (1) from holder if you want to return the cover to original position. To remove the cargo area cover completely, lift the cover to a 43- degree angle and pull it out to the full (2). For installation of the cover, reverse the removal procedure.
CAUTION
When you return the cargo area cover to its original position, hold the cover and lower it.
Do not operate the vehicle with the cover removed. It may damage to the cover.
The cargo area cover may be lifted when the tailgate is opened. Ensure that the luggage on the cover is moved to a safe place.
Since the cargo area cover may be damaged or malformed, do not apply excessive force to the cover or do not put the heavy loads on it.
WARNING
Do not place objects on the cargo area cover while driving. Such objects may be thrown about inside the vehicle and possibly injure vehicle occupants during an accident or when braking.
Never allow anyone to ride in the luggage compartment. It is designed for luggage only.
Maintain the balance of the vehicle and locate the weight as far forward as possible.
Navigation system (if equipped)
The navigation system identifies the present position of our vehicle by using GPS information and can help guide you to a selected destination.
Detailed information for the navigation system is described in a separately supplied manual.
The climate control seat is provided to cool or warm the seat during hot or cold weather by blowing air through small vent holes on the surface of the seat and seatback. While the engine is runn ...
✽ NOTICE If you install an after market HID head lamp, your vehicle's audio and electronic device may malfunction. Glass antenna (if equipped) When the radio power switch is turned on w ...
See also:
Intake Actuator Description
The intake actuator is located at the blower unit. It regulates the intake door by the signal from the control unit. Pressing the intake selection switch will shift between recirculation and ...
Head Lamps Description and Operation
HID Head Lamp 1. Bulb (1) Elements Xenon gas: Xenon gas activates the initial reaction for rapid illuminati ...
Cruise Control Switch Installation
1. Reassemble the cruise control switch after connecting the connector. 2. Reassemble the driver airbag module. ...