Kia Forte: Audio system
✽ NOTICE
If you install an after market HID head lamp, your vehicle's audio and electronic device may malfunction.
Glass antenna (if equipped)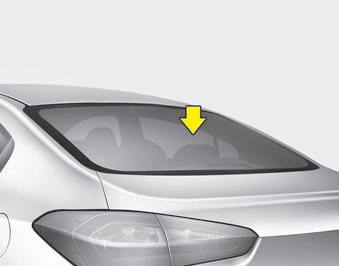 When the radio power switch is turned on while the ignition switch is in either the "ON" or "ACC" position, your car will receive both AM and FM broadcast signals through the antenna in the rear window glass.
CAUTION
Do not clean the inside of the rear window glass with a cleaner or use a scraper to remove foreign deposits as this may cause damage to the antenna elements.
Avoid adding metallic coatings such as Ni, Cd, and so on. These can disturb receiving AM and FM broadcast signals.
Steering wheel audio controls (if equipped)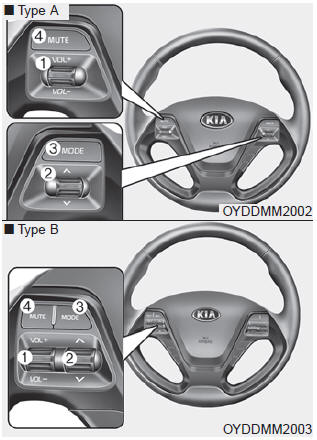 The steering wheel may incorporate audio control buttons.
WARNING
Driving while distracted is dangerous and should be avoided. Drivers should remain attentive to driving and always exercise caution when using the steering wheel- mounted controls while driving.
CAUTION
Do not operate audio remote control buttons simultaneously.
VOLUME (


/

)
(1)
Press the lever upward ()
to increase the volume.
Press the lever downward ()
to decrease the volume.
SEEK/PRESET (


/

)
(2)
The SEEK/PRESET button has different functions based on the system mode. For the following functions the button should be pressed for 0.8 seconds or more.
RADIO mode
It will function as the AUTO SEEK select button.
CD/USB/ iPod mode
It will function as the FF/REW button.
If the SEEK/PRESET button is pressed for less than 0.8 seconds, it will work as follows in each mode.
RADIO mode
It will function as the PRESET STATION buttons.
CD/USB/ iPod mode
It will function as TRACK UP/DOWN button.
MODE (3)
Press the button to change audio source.
FM(1~2)➟AM➟SAT(1~3)➟CD➟USB AUX(iPod)➟FM...
In addition to mode change, Power on/off can be made by pressing this button when the ignition switch is on ACC or ON.
Power ON:
Press the button when the audio is off
Power OFF:
Press the button for more than 0.8 seconds when the audio is on.
MUTE (4, if equipped)
Press the button to mute the sound.
Press the button to turn off the microphone during a telephone call.
Detailed information for audio control buttons are described in the following pages in this chapter.
Aux, USB and iPod®* port
If your vehicle has an aux and/or USB(universal serial bus) port or iPod® port, you can use an aux port to connect audio devices and an USB port to plug in an USB and also an iPod® port to plug in an iPod®.
✽ NOTICE
When using a portable audio device connected to the power outlet, noise may occur during playback. If this happens, use the power source of the portable audio device.
Use the cover to hide items stored in the cargo area. The cargo area cover will be lifted when the tailgate is opened. Disconnect the strap (1) from holder if you want to return the cover to ori ...
AM and FM radio signals are broadcast from transmitter towers located around your city. They are intercepted by the radio antenna on your vehicle. This signal is then processed by the radio and ...
See also:
Alternator Specification
Alternator [Non-ISG type] Item Specification Rated voltage 13.5V, 90A Speed in use 1,000 ~ 18,000 rpm Voltage regulator IC ...
Operation
Evaporative System Monitoring Evaporative And ORVR Emission Control System This system consists of a fill vent valve, fuel shut-off valve, fuel cut valve (for roll over), two way val ...
Fuses
A vehicle's electrical system is protected from electrical overload damage by fuses. This vehicle has 2 fuse panels, one located in the driver's side panel bolster, others in the engine ...