Kia Forte: Checking the engine oil level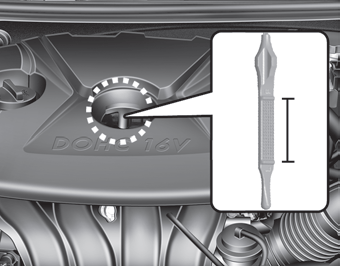 1. Be sure the vehicle is on level ground.
2. Start the engine and allow it to reach normal operating temperature.
3. Turn the engine off and wait for a few minutes (about 5 minutes) for the oil to return to the oil pan.
4. Pull the dipstick out, wipe it clean, and reinsert it fully.
WARNING - Radiator hose
Be very careful not to touch the radiator hose when checking or adding the engine oil as it may be hot enough to burn you.
5. Pull the dipstick out again and check the level. The level should be between F and L.
CAUTION - Replace engine oil
Do not overfill with engine oil. Engine damage may result.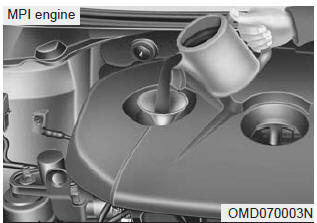 If it is near or at L, add enough oil to bring the level to F. Do not overfill.
Changing the engine oil and filter
Have engine oil and filter changed by an authorized Kia dealer according to the Maintenance Schedule at the beginning of this chapter.
WARNING - California proposition 65
Engine oil contains chemicals known to the State of California to cause cancer, birth defects and reproductive harm. Used engine oil may cause irritation or cancer of the skin if left in contact with the skin for prolonged periods of time. Always protect your skin by washing your hands thoroughly with soap and warm water as soon as possible after handling used oil.
The high-pressure cooling system has a reservoir filled with year-round antifreeze coolant. The reservoir is filled at the factory. Check the antifreeze protection and coolant level at least once a ...
See also:
Head Lamps Inspection
1. Check-points upon head lamp failure (HID) (1) Check the battery voltage. (Low beam will be on when the battery voltage above 9V.) ...
Telemetics Unit (TMU) Removal
1. Disconnect the negative (-) battery terminal. 2. Remove the glove box housing. (Refer to Body - "Glove Box Housing") ...
Spark Plug Description
A spark plug is a device for delivering electric current from an ignition system to the combustion chamber of a spark-ignition engine to ignite the compressed fuel/air mixture therein by mean ...