Kia Forte: Engine coolant temperature gauge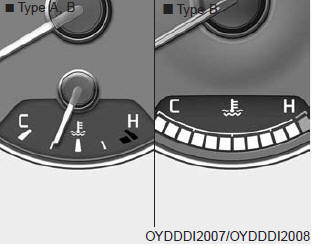 This gauge shows the temperature of the engine coolant when the ignition switch is ON.
Do not continue driving with an overheated engine.
If the gauge pointer moves beyond the normal range area toward the "H" position, it indicates overheating that may damage the engine.
Fuel gauge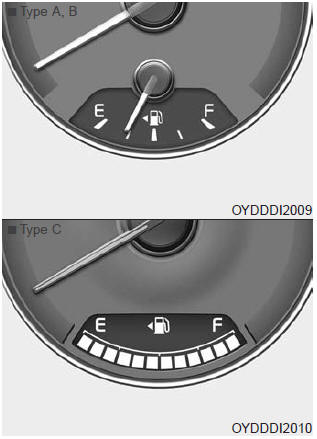 The fuel gauge indicates the approximate amount of fuel remaining in the fuel tank. The fuel tank capacity is given in chapter 8. The fuel gauge is supplemented by a low fuel warning light, which will illuminate when the fuel tank is nearly empty.
On inclines or curves, the fuel gauge pointer may fluctuate or the low fuel warning light may come on earlier than usual due to the movement of fuel in the tank.
WARNING - Fuel gauge
Stop and obtain additional fuel as soon as possible after the warning light comes on or when the gauge indicator comes close to the E level. Running out of fuel can expose vehicle occupants to danger.
CAUTION - Low fuel
Avoid driving with extremely low fuel level. Running out of fuel could cause the engine to misfire, damaging the catalytic converter.
Odometer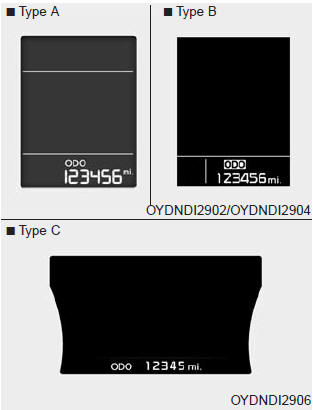 Odometer
The odometer indicates the total distance the vehicle has been driven.
You will also find the odometer useful to determine when periodic maintenance should be performed.
Transaxle Shift Indicator
Automatic Transaxle Shift Indicator (if equipped)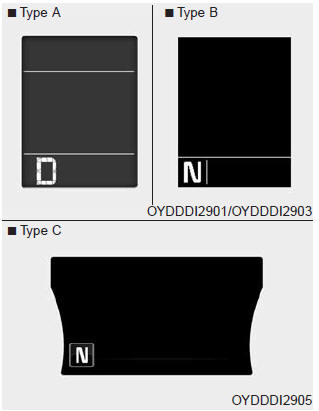 This indicator displays which automatic transaxle shift lever is selected.
Park :P
Reverse : R
Neutral : N
Drive :D
Sports Mode : 1, 2, 3, 4, 5, 6
Manual transaxle shift indicator (if equipped)

This indicator informs you which gear is desired while driving to save fuel.
For example


: Indicates that shifting up to the 3rd gear is desired (currently the shift lever is in the 2nd gear).


: Indicates that shifting down to the 3rd gear is desired (currently the shift lever is in the 4th gear).
✽ NOTICE
When the system is not working properly, up & down arrow indicator and Gear are not displayed.
Adjusting Instrument Cluster Illumination The instrument panel illumination intensity can be adjusted by pressing the control switch with the headlight switch in any position when the ignition s ...
See also:
Cooling Fan Specifications
Item Specification Fan type PULLER Fan speed control Resistor (HI-LOW-OFF) Air flow rate [㎥/h (yd³/h)] 1,700 (2,22 ...
Installation
1. Remove ignition key from the vehicle. 2. Disconnect the negative (-) cable from battery and wait for at least thirty seconds. ...
Timing Chain Cover Removal
Engine removal is not required for this procedure. • Use fender covers to avoid damaging pa ...