Kia Forte: Opening the trunk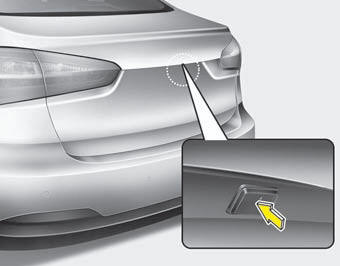 Press the trunk unlock button for more than 1 second on the transmitter (or smart key).
Press the button on the trunk handle with the smart key in your possession. Once the trunk is opened and then closed, the trunk locks automatically.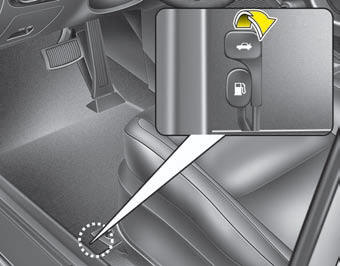 To open the trunk from inside the vehicle, pull the trunk lid release lever.
Once the trunk is opened and then closed, the trunk locks automatically.
✽ NOTICE
In cold and wet climates, trunk/tailgate lock and trunk/tailgate mechanisms may not work properly due to freezing conditions.
WARNING
The trunk swings upward. Make sure no objects or people are near the rear of the vehicle when opening the trunk/tailgate.
CAUTION
Make certain that you close the trunk before driving your vehicle. Possible damage may occur to attached hardware if the trunk/tailgate is not closed prior to driving.
Closing the trunk/tailgate
To close, lower the trunk/tailgate lid, then press down on it until it locks. To be sure the trunk/tailgate lid is securely fastened, always check by trying to pull it up again.
WARNING
The trunk/tailgate lid should always be kept completely closed while the vehicle is in motion. If it is left open or ajar, poisonous exhaust gases may enter the car and serious illness or death may result.
Emergency trunk/tailgate safety release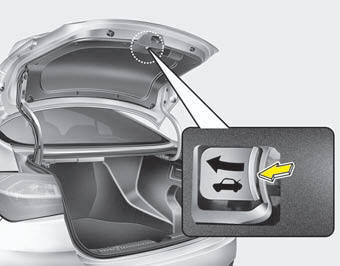 Your vehicle is equipped with an emergency trunk/tailgate release lever located inside the trunk/tailgate.
If someone is inadvertently locked in the trunk/tailgate, moving the handle in the direction of the arrow will release the trunk/tailgate latch mechanism and open the trunk/tailgate.
WARNING
No one should be allowed to occupy the trunk/tailgate at any time. The trunk/tailgate is a very dangerous location in the event of a crash.
Use the release lever for emergencies only. Use extreme caution, especially while the vehicle is in motion.
See also:
Injector Specification
Item Specification Coil Resistance (Ω) 13.8 ~ 15.2 [20°C(68°F)] ...
License Lamp Installation
1. Connect the connector. 2. Install the license lamp. ...
Removal
1. Disconnect the battery negative cable, and wait for at least thirty seconds before beginning work. 2. Remove the seat belt after pushin ...