Kia Forte: System Block Diagram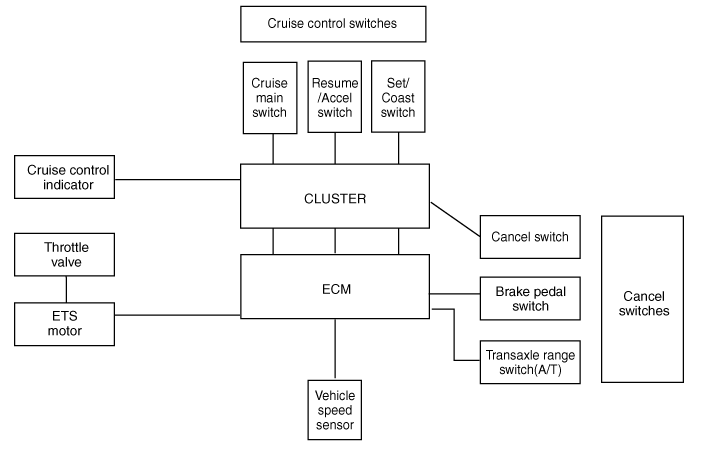 Component Parts And Function Outline
Component part




Function




Vehicle-speed sensor




Converts vehicle speed to pulse.




ECM




Receives signals from sensor and control switches.




Cruise control indicator




Illuminate when CRUISE main switch is ON (Built into cluster)




Cruise Control switches




ON/OFF switch




Switch for automatic speed control power supply.




Resume/Accel switch




Controls automatic speed control functions by Resume/Accel switch (Set/Coast switch)




Set/Coast switch




Cancel switches




Cancel switch




Sends cancel signals to ECM.




Brake-pedal switch




Transaxle range switch (A/T)




ETS motor




Regulates the throttle valve to the set opening by ECM.



* ETS : Electronic Throttle System
The cruise control system is engaged by the cruise "ON/OFF" main switch located on right of steering wheel column. The system has the capability to cruise, coast, accelerate and res ...
Trouble Symptom 1 Trouble Symptom 2 Trouble symptom Probable cause Remedy The set vehicle speed varies greatly upward or downward &qu ...
See also:
Removal
1. Disconnect the battery negative cable, and wait for at least three minutes before beginning work. 2. Remove the front seat assembly. ...
Radiator Removal and Installation
1. Remove the cooling fan. (Refer to Cooling System - "Cooling Fan") 2. Remove the radiator upper hose (A). ...
Input Speed Sensor Description
Input speed sensor is a vital unit that measures the rate of rotation of the input shaft inside the transaxle and delivers the readings to the Transaxle Control Module(TCM). The sensor provid ...