Kia Forte: Transaxle Oil Temperature Sensor Specifications
▷ Type: Negative Thermal Coefficient(NTC) Type
| | |
| --- | --- |
| Temp.[(°C)°F] | Resistance (kΩ) |
| (-40)-40 | 48.1 |
| (-20)-4.0 | 15.6 |
| (0)32.0 | 5.88 |
| (20)68.0 | 2.51 |
| (40)104.0 | 1.19 |
| (60)140.0 | 0.61 |
| (80)176.0 | 0.32 |
| (100)212.0 | 0.18 |
| (120)248.0 | 0.10 |
| (140)284.0 | 0.06 |
| (150)302.0 | 0.03 |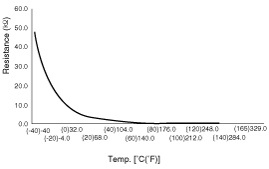 Transaxle Oil Temperature Sensor(OTS) monitors the automatic transaxle fluid's temperature and conveys the readings to Transaxle Control Module(TCM). It is an Negativen Thermal Coefficien ...
See also:
Rear Wheel House Trim Component Location
(4Door) 1. Rear wheel house trim (5Door) 1. Rear wheel house trim ...
OBD-II review
1. Overview The California Air Resources Board (CARB) began regulation of On Board Diagnostics (OBD) for vehicles sold in California beginning with the 1988 model year. The first phase, O ...
Power Door Lock Actuators Inspection
Front Door Lock Module Inspection 1. Remove the front door trim. (Refer to Body - "Front Door Trim") 2. Remove the front d ...