Kia Forte: Transaxle Oil Temperature Sensor Description
Transaxle Oil Temperature Sensor(OTS) monitors the automatic transaxle fluid's temperature and conveys the readings to Transaxle Control Module(TCM). It is an Negativen Thermal Coefficient(NTC) sensor whose resistance has an inversely proportional relationship with the temperature level. Data produced by this sensor is used to identify Damper Clutch (D/C) activation and deactivation zones within the low temperature and high temperature range and to compensate hydraulic pressure levels during gear changes.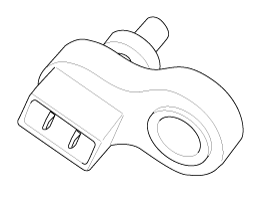 1. Installation is reverse of removal. • ...
▷ Type: Negative Thermal Coefficient(NTC) Type Temp.[(°C)°F] Resistance (kΩ) (-40)-40 48.1 (-20)-4.0 15.6 (0)32.0 ...
See also:
Front Driveshaft Component
1. Driveshaft (LH) 2. Circlip 3. Driveshaft (RH) ...
Alternator Inspection
[Rotor] 1. Check that there is continuity between the slip rings (C). 2. Check that there is no continuity between the slip ...
Description
The 6-speed automatic transaxle consists of an Overdrive Clutch (OD/C), a One-Way Clutch (OWC), a Lower & Reverse Brake (LR/B), an Underdrive Brake (UD/B), a 26 brake (26/B), and a 35R Cl ...