Kia Forte: Auto Head Lamp Leveling Unit Operation
Operating Procedure
| | |
| --- | --- |
| 1. | Suspension angle change resulted from vehicle's load change. |
| | |
| --- | --- |
| 3. | Microprocessor calculates necessary head lamp angle change amount. |
| | |
| --- | --- |
| 4. | Sending a proper signal to head lamp leveling device and driving actuator. |
Operating Condition
| | |
| --- | --- |
| 3. | On stop : If sensor lever change is 0.7° and above, head lamp is operated after max. 1.5 sec. |
| | |
| --- | --- |
| 4. | On driving : If vehicle velocity is over 4km/h(2.48mile/h), velocity change is not over 0.8-1.6km/h(0.5 ~ 1.0mile/h) per second, and loading condition is changed, then head lamp is operated. |
Components
1.

Auto head lamp leveling unit

1. Leveling unit & sensor

2. Sensor mounting bracket

| | |
| --- | --- |
| A. | Using a Micro-processor, percept the operation lever's mechanical angle change or speed signal. |

| | |
| --- | --- |
| B. | As an actuator control device of inner control program, mounting on the rear center arm. |
2.

| | |
| --- | --- |
| A. | Change the head lamp lighting direction up or down since automatic head lamp leveling unit sensing the input signal following the vehicle's statically changes. |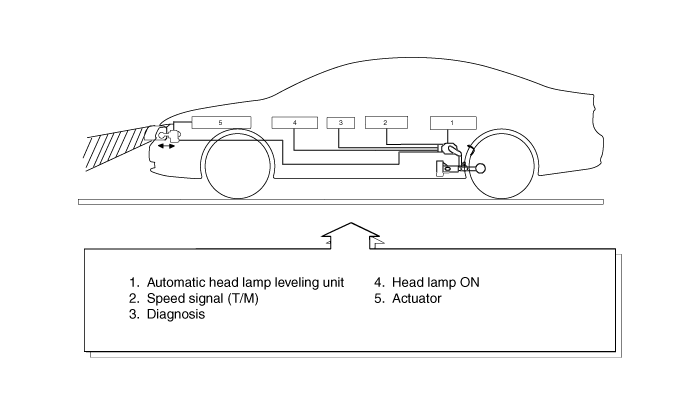 According to driving environment and loading state of vehicle, head lamp lighting direction is changed to keep the driver's visibility range and to protect the driver's vision from gl ...
1. Ignition "ON". 2. Turn on the head lamp switch. 3. Check for operation. If the aim of the head lam ...
See also:
Front Disc Brake
Components 1. Guide rod bolt 2. Bleed screw 3. Caliper carrier 4. Caliper body 5. Inner pad shim 6. Brake pad 7. Pad retainer ...
Timing Chain Installation
1. Check that the TDC marks on the intake and exhaust CVVT sprockets are slightly turned (about 2 to 3 teeth) from the TDC position after the timing chain has been rem ...
DC/DC Converter Description
Due to the considerably more frequent occurrence of starting operations, the electrical load that occurs often leads to voltage dips in the vehicle network. In order to stabilize the power s ...