Kia Forte: Evaporator Temperature Sensor Description
The evaporator temperature sensor will detect the evaporator core temperature and interrupt compressor relay power in order to prevent evaporator freezing by excessive cooling.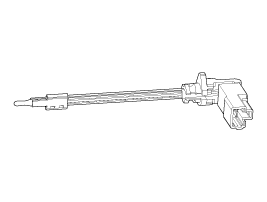 1. Disconnect the negative (-) battery terminal. 2. Recover the refrigerant with a recovery/charging station. 3. ...
1. Turn the ignition switch OFF. 2. Disconnect evaporator temperature sensor. 3. Using the multi-tester, measur ...
See also:
Rear Door Outside Handle Replacement
(4Door, 5Door) 1. Remove the hole plug (B). 2. After loosening the mounting bolt, then remove the rear door outside handle cov ...
Shift Lever Inspection
1. Check operating of lever of T/M side when operating shift lever after assembly. 2. When shift lever to "R" position, check th ...
Canister Close Valve (CCV) Description
Canister Close Valve (CCV) is normally open and is installed on the canister ventilation line. It seals evaporative emission control system by shutting the canister from the atmosphere during ...