Kia Forte: Evaporator Temperature Sensor Description
The evaporator temperature sensor will detect the evaporator core temperature and interrupt compressor relay power in order to prevent evaporator freezing by excessive cooling.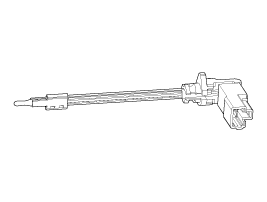 1. Disconnect the negative (-) battery terminal. 2. Recover the refrigerant with a recovery/charging station. 3. ...
1. Turn the ignition switch OFF. 2. Disconnect evaporator temperature sensor. 3. Using the multi-tester, measur ...
See also:
Inspection
W/Harness Inspection 1. Check the vehicle speed sensor by using the scan tool. (if normal, current vehicle speed is display) 2. Chec ...
Compressor Description
The compressor is the power unit of the A/C system. It is located on the side of engine block and driven by a V-belt of the engine. The compressor changes low pressure and low temperatur ...
A/C Pressure Transducer Description
The A/C Pressure Transducer (APT) converts the pressure value of high pressure line into voltage value after measuring it. By converted voltage value, engine ECU controls the cooling fan by o ...