Kia Forte: Oil Pump Components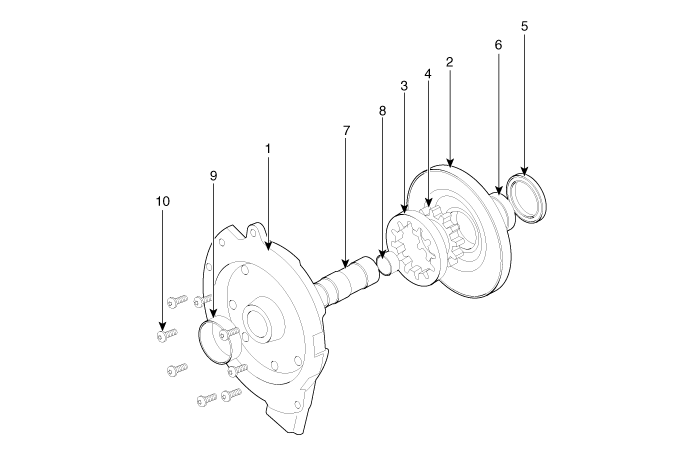 1. Oil pump cover




2. Oil pump housing




3. Driven gear




4. Drive gear




5. Oil seal




6. Bushing-housing




7. Reaction shaft




8. Bushing-reaction shaft




9. Sleeve




10. Bolt



Oil Pump Operation Flow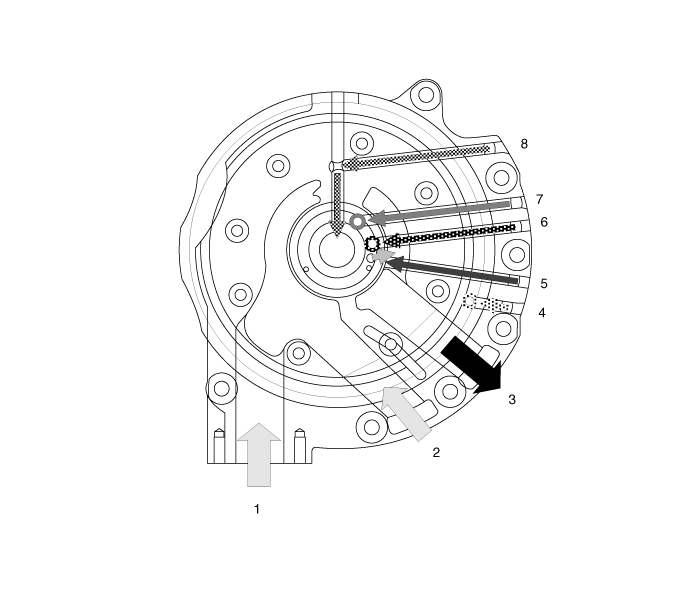 1. Inhale(Oil filter)




2. Inhale(Valve body)




3. Outlet




4. 26 Brake (26/B) operation pressure




5. 35R Clutch (35R/C) operation pressure




6. Lubrication




7. Lock up clutch operation pressure




8. Lock up clutch cancellation



The oil pump is built-in as a single unit with the 26 Brake chamber. Rotation of the pump builds the hydraulic pressure needed for the lubrication of the various parts of the transaxle and op ...
1. Injection hole(eyebolt) 2. Oil level plug 3. Oil drain plug ...
See also:
Fuel Sender Removal
1. Remove the fuel pump. (Refer to Fuel Delivery System - "Fuel Pump") 2. Disconnect the electric pump wiring connector (A) and t ...
Alternator Removal
1. Disconnect the battery negative (-) cable. 2. Remove the drive belt. (Refer to Engine Mechanical System - "Timing Chain") ...
Engine Control Module (ECM) Removal
When replacing the ECM, the vehicle equipped with the immobilizer must be performed procedure as below. ...