Kia Forte: Oil Pump Components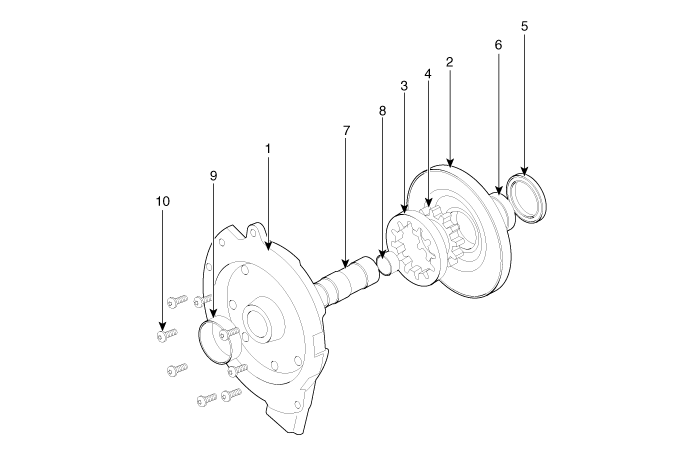 1. Oil pump cover




2. Oil pump housing




3. Driven gear




4. Drive gear




5. Oil seal




6. Bushing-housing




7. Reaction shaft




8. Bushing-reaction shaft




9. Sleeve




10. Bolt



Oil Pump Operation Flow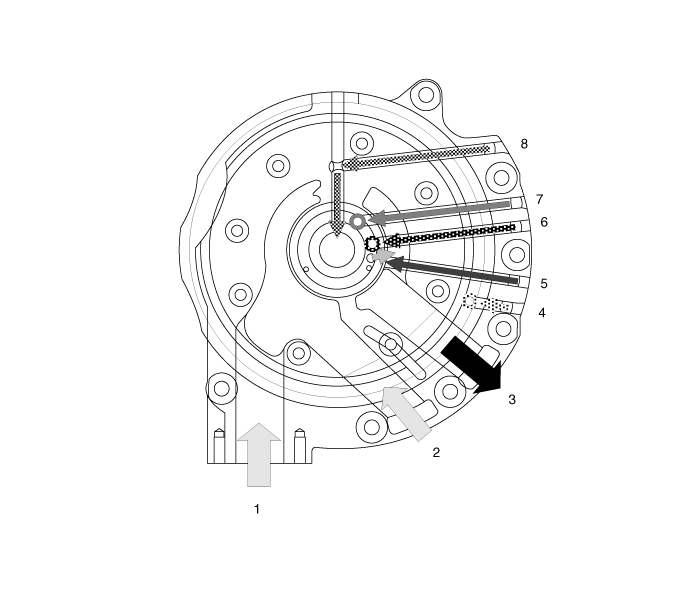 1. Inhale(Oil filter)




2. Inhale(Valve body)




3. Outlet




4. 26 Brake (26/B) operation pressure




5. 35R Clutch (35R/C) operation pressure




6. Lubrication




7. Lock up clutch operation pressure




8. Lock up clutch cancellation



The oil pump is built-in as a single unit with the 26 Brake chamber. Rotation of the pump builds the hydraulic pressure needed for the lubrication of the various parts of the transaxle and op ...
1. Injection hole(eyebolt) 2. Oil level plug 3. Oil drain plug ...
See also:
Specification
Item Type Watt (W) Head lamp Low STD H11 55 HID D8S 25 High H1 55 Turn ...
Tightening Torque
Part tightened N.m Kgf.m lbf.ft Condenser - Discharge hose 7.8~11.7 0.8~1.2 5.7~8.6 Condenser - Liquid tube Comp ...
Sunroof Guide Replacement
1. Remove the sunroof assembly. (Refer to Sunroof - "Sunroof Assembly") 2. Remove a drip link assembly (A) after lowering a gu ...