Kia Forte: Valve Body Components Location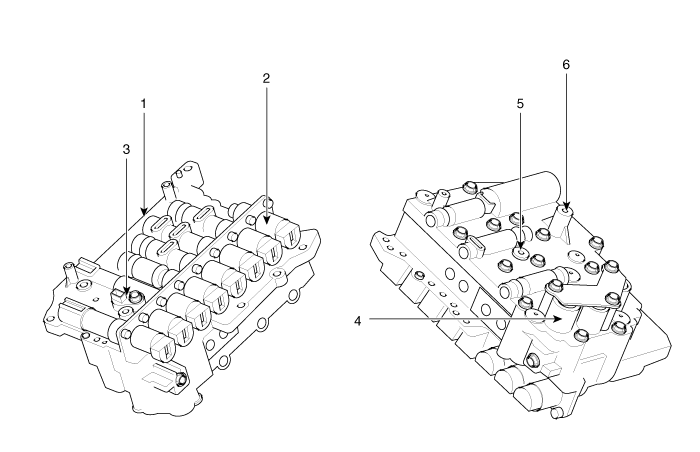 1. Pressure Controle Valve(PCV) adjust screw




2. Solenoid valve




3. Oil temperature sensor




4. Accumulator




5. Low & Reverse Brake(LR/B) pressure flow hole




6. Underdrive Brake(UD/B) pressure flow hole



Valve Body Flow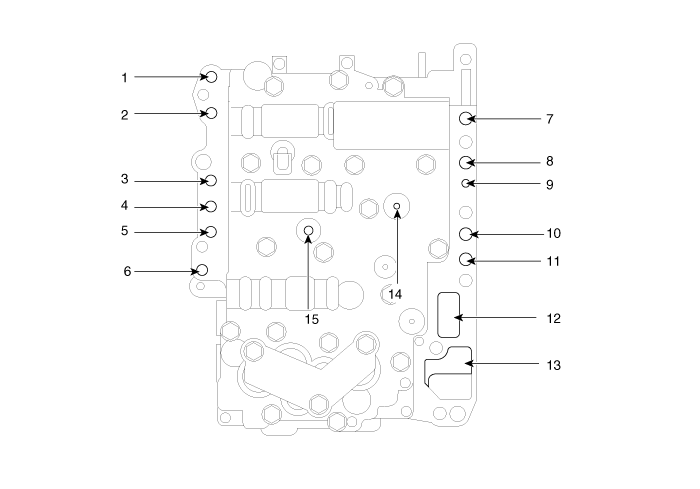 1. To cooler




2. From cooler




3. Lubrication(rear)




4. Overdrive pressure




5. Reducing pressure (red2)




6. Reducing pressure (red1)




7. Damper release pressure




8. Damper apply pressure




9. Lubrication(front)




10. 35R Clutch (35R/C) pressure




11. 26 Brake (26/B) pressure




12. From oil pump




13. To oil pump




14. Underdrive pressure




15. Low & reverse pressure



The valve body is essential to automatic transaxle control and consists of various valves used to control the oil feed from the oil pump. Specifically, these valves consist of pressure regula ...
1. Disconnect the negative (-) battery cable. 2. Remove the air cleaner assembly and air duct. (Refer to Engine Mechanical System - &qu ...
See also:
Rear Coil Spring Replacement
1. Loosen the wheel nuts slightly. Raise the vehicle, and make sure it is securely supported. 2. Remove the front wheel and tire (A) from f ...
Door Switch Installation
1. Install in reverse of removal. ...
Components Location
1. Overdrive Clutch (OD/C) 2. One-Way Clutch (OWC) 3. Low&Reverse Brake (LR/B) 4. Underdrive Brake (UD/B) 5. 26 Brake (26/B) 6. 35R Clutch (35R/C) 7. Damper Clutch ...